The Simpsons hit San Diego Comic Con on Saturday to release some exciting news about the show and the upcoming Season 29. The panel opened with a Trump short, included a live Q&A animation with Bart (to welcome Nancy Cartwright to the panel) and released some intriguing information.
---
General Information …
The first news that got fans excited was that they are going to be releasing full seasons of the show starting with Season 18, to be released on December 2cd (and include full commentaries, special features and deleted scenes like all seasons released on DVD).
The cover was revealed and Fat Tony takes centre place …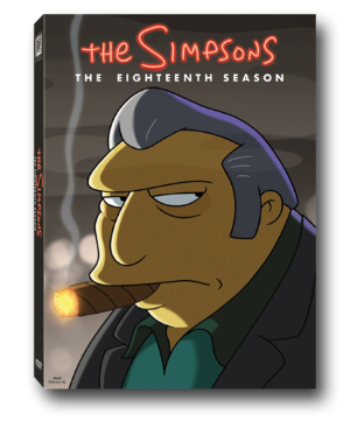 It was announced that there will be a Bob Burger couch gag (due to being fans of the show) and Matt Groening announced a second couch gag by guest animator Bill Plympton. This was the first one he did for the show …
Upcoming Episode Announcements …
David Silverman, the Simpsons Movie director, announced an episode that he's working on where the Simpsons family travel to JazzFest in New Orleans.
Al Jean announced an episode set in the future focused on Lisa where "You see where she might wind up, and she might end up with a woman".
Jean also teased a Krusty the Clown episode which is a re-imagining of Stephen King's 'It' – which sounds amazing!
And fans that visited the panel got to see a sneak peek of this year's Treehouse of Horror with a segment titled "The Exor-Sis" and features Maggie getting possessed.
Announced Guest Stars …
– Kelsey Grammar (as Sideshow Bob!)
– Shaquille O'Neal
– Martin Short
– Nikolaj Coster-Waldall (Game of Thrones Star) who has "a very inappropriate relationship with one of the Simpsons" – Al Jean teased.
As well as that, Matt Groening teased a Futurama announcement to come at the end of the month (hopefully near my birthday!) and I can't wait.
Here's a highlights video that FOX produced that shows a fraction of the infomation and fun at The Simpsons panel …
---
Season 29 sounds like it could be a great episode for the Simpsons so tell me down below which information excites you the most? Which characters would you like to see on the cover of the Season 19 DVD? Let me know your thoughts down below and Happy Tapping!
2