---
So the Duff Gardens glitch has been solved (YEAH!) and now that more tappers have this item in the game, including myself, I wanted to do the origin!
We will be exploring into the details of a pure simpson classic: Selma's Choice (S4 Ep13) so read on to find out the origins of Duff Gardens, Lizard Queen Lisa and many more fun items that Gil has to offer!
---
The origins of Duff Gardens stuff!
---
Duff Gardens starts from the word go as we see an advertisement for it in the beginning credits presented by Captian Lance Murdock
We even get a glimspe of the Beeramid and the Beerquarium ("Home of the world's happiest fish")
And we get a pan of the "world's happiest fish" in the Beerquarium
The family have to go to a funeral for Marge's aunt 🙁 and Selma and Patty are advised to get a kid after a video-will warns them not to die alone without children and a hubsband!
Homer promises the kids that they can go to Duff Gardens but then Homer gets sick after eating a rotten sandwich. In order for Selma to learn the resposibilities of parenthood Marge decides to let Selma take the children.
The children wear out Selma after a ride featuring the creepy animatronic dolls/gnomes: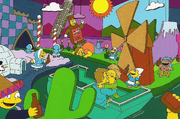 And after Bart dares Lisa to drink some weird water, she hallucinates and goes crazy believing that she is the Lizard Queen!
Selma relises that she doesn't need a child so gets Jub-Jub, a lizard, instead!
So that is the fun origins of Duff Gardens and the items that came with it but now some fun related facts and trivia about the gardens and episode …
---
THE origins of names, tasks and more duff garden facts
---
---
The building task for Duff Gardens is "polishing Beer Goggles" which is a reference to the scene in Selma's Choice where Bart picks up a pair of Beer Goggles in the gift shop which portray the world differently and portray a sexier version of Selma!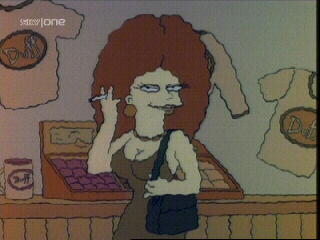 This is episode was the first appearance of Jub-Juh and the Seven Duffs

The phrase "I am the lizard queen" and the speech is a reference and tribute to Jim Morrison's poem "Celebration of the Lizard'
Lisa's hallucination is based of the artist Ralph Steadman's work!
---
Push Notifications: 
Bow before Lizard Queen Lisa! Get both Duff Gardens, the only amusement park without a loading screen, and Lizard Queen Lisa in the store today.
Which is an obvious reference to the annoyance of having Krustyland separate to Springfield – unlike Duff Gardens which are items for your Springfield!
---
So did you enjoy exploring the origins of everything Duff Garden related? Were you as excited as me to get this deal? Any opinions on the deal? Were you affected by the glitch, like me? Sound off below in the comments and Happy Tapping …