As this event comes to a much-needed and desired end, my Simpsons senses are tingling with the need to speculate and rewatch Simpsons episodes in the fun of planning of what COULD be coming next. With The Simpsons Tapped Out we are 99% sure that we will get specific holiday themed updates like Halloween and Christmas so with Halloween already near the end, I'm pretty sure that we can safely predict how the rest of 2017 will go for TSTO. So buckle down for a quick rundown of some TSTO teasers and what I think is going to end 2017 …
As with most speculation, the best place to look for clues are the descriptions of takedown updates after major events as EA loves to tease us with clever and sometimes misleading questions that I love to break down due to my love for both the game and The Simpsons. The last takedown description we got was for the Homerpalooza event and read like this …
"Springfield's festival of music has ended and all that's left is the tedious hours of cleanup… just kidding! Video games have no consequences! It's time to hang up those mics and return your townfolk back to their normal lives. But what's next for your Springfield? Magical maladies and mayhem? A fried food feast? A clash of colliding colors? An all-town alliteration altercation? Stay tuned to find out!"
As always EA put many questions at the end of these descriptions which often give clues to upcoming updates of the near and far future. So let's break down the questions of this teaser …
---
Magical maladies and mayhem?
Speculated Status: USED
This teaser was clearly to tease "The Serfsons" tie-in and the Halloween event of 2017. We've seen so much magic and mayhem so I don't see how this teaser could have been for anything else OR show us what could be coming after this event – I think we've had enough of magic for 2017.
---
A fried food feast?
Speculated Status: UPCOMING
In my opinion, this teaser is a clear clue for Thanksgiving 2017 – another holiday which we are almost certain to get an update about. Some tappers say that this was a clue for the "County Fair" mini-event we got before Halloween but there was no mention or content linked to the theme of fast food present in that update. We'll probably get a Thanksgiving update where we see some kind of Thanksgiving cook off / feast where we see a number of fast food related buildings and content. We may even see Lisa, Ned or someone like that complain about how Thanksgiving has drifted from it's patriotic core. Even if this teaser isn't linked to Thanksgiving, I'm sure that this is an update that we'll be getting whether it be this year or next year.
We'll probably get content from Fast Food Boulivard as we already have some buildings from that district. Would LOVE to see some of these buildings in are games …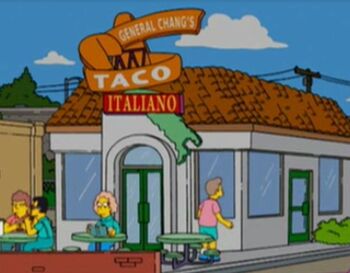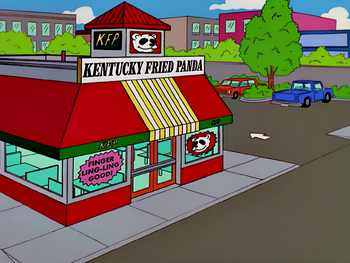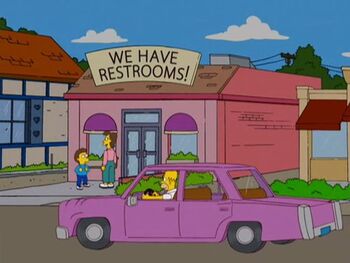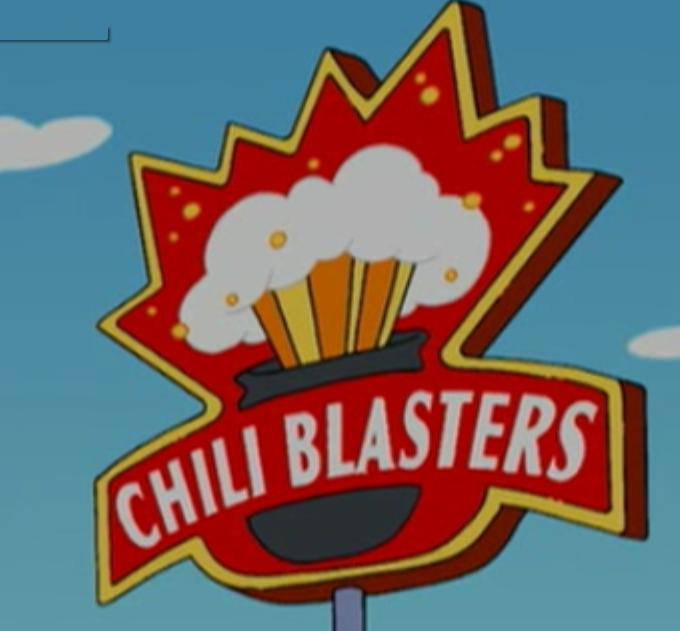 And after doing some research there are SO many funny buildings linked to Fast Food scattered across the many seasons of The Simpsons …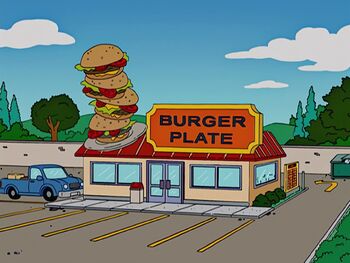 And the link to Fried Food made me think of the Season 28 episode "Fatzcaralldo" so maybe we'll see Deuce and Deuce's Caboose Chili Dog van make a Character/Building combo?…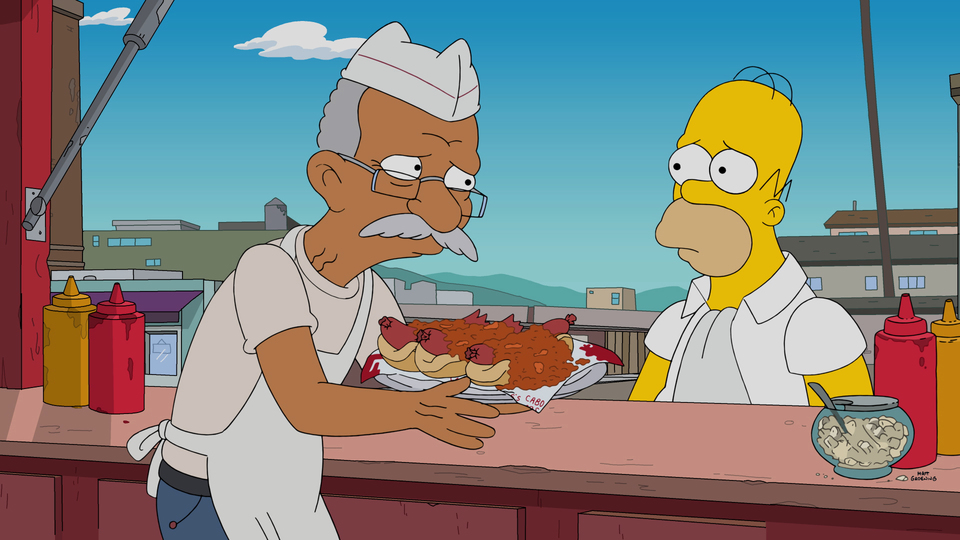 And what if the theme of Fried Food links to a theme of an Overweight Springfield were we see Fat Bart (and other characters!) and Camp Flab-Away with Bill the Instructor?…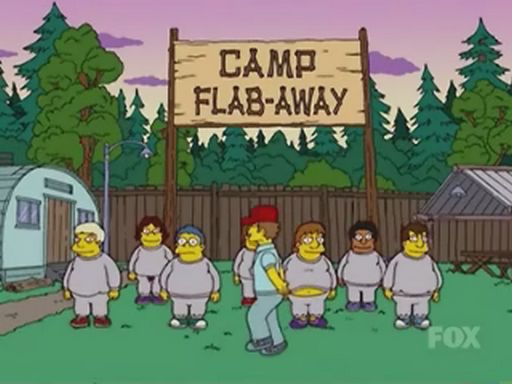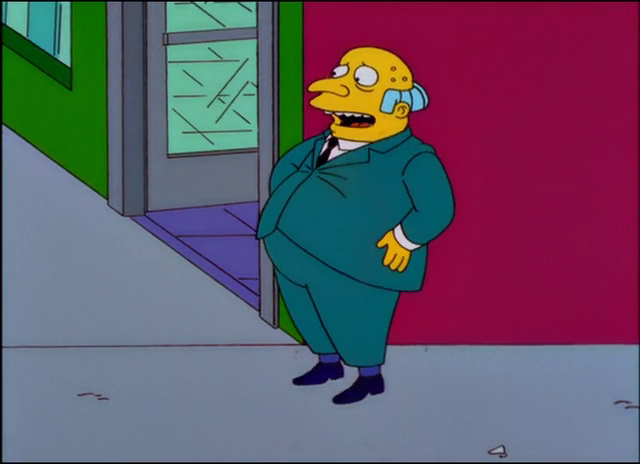 ---
A Clash of Colliding Colors?
Speculated Status: UPCOMING / RED HERRING
To be completely honest, I really don't know what this teaser could be in terms of specific content as nothing rings an obvious bell but I really hope it's teasing a really colourful, festive Christmas because after last year's Christmas. I could really do with a more family, warm, cliche Christmas. Maybe this is linked to a Christmas Light competition? Night Mode??
Got quite a lot of fun ideas for Christmas in TSTO but don't want to spoil the seperate post that will go up after this event ;).
Some tappers speculated that this could be teasing a Football event. Don't really understand the link but I guess I'm not a massive sports fan :). It could be but I don't see time for extra updates between now and Christmas so if it was a Football event, it would be next year and I doubt they'd do a football themed event in the winter. So there is a very small chance of getting a Football event soon – plus, I think we've had enough sports updates!
---
An all-town alliteration altercation?
Speculated Status: UPCOMING / RED HERRING
Another teaser that I'm not sure of it's specific meaning. Could be a red-herring! The only Simpsons themed idea that jumped to mind based on this clue was a "Who Shot Mr Burns" update due to this scene …
"Who Shot Mr Burns" Pt 1 and 2 are two EXCELLENT (Mr Burns voice) episodes in my opinion. I love them and do think they'd make a perfect mini-event or even mystery themed major event. Being a massive crime lover, I would love a content update where we get given a crime, some clues over the course of the event and we, as the tappers, have to solve the crime. This level of interaction is a key part of why I think tappers loved events like Stonecutters and get bored easily with recent updates.
Could the sunblocker lead to night mode which leads to a Christmas Light Competition?? MIND BLOWN!
However, the link is quite a stretch and even if it was a clue for a Mystery themed update, I highly doubt it will be this year because time is tight for the rest of the year.
---
Due to the many random and little updates we got scattered around the year (remember Superheroes 3?!), I think the rest of the year works so perfectly in terms of when updates are hitting. EA have stuck with a solid Major events on Tuesday and Minor/other updates on Wednesday rule this year and recently so using that logic and the fact that we know that we always get Halloween and Christmas in Tapped Out. Here is what I think is coming for the rest of 2017 …
Halloween event

ends on Tuesday 14th.
Thanksgiving mini-event

(2 weeks) from Wednesday 15th to 29th – Fast Food/Overeating theme?
Christmas event

Tuesday 5th December to sometime in January – unclear of what the theme could be.

Looking at the weeks and dates that these events usually hit and how they work out with the ending of Halloween, the dates of above seem to fit so perfectly. BUT this is all speculation, EA haven't revealed anything in terms of dates so please don't hold me to these dates or get excited and then disappointed if nothing happens on these dates.
---
I hope you enjoyed this post. What do you think these clues could mean? Do you agree with my predicted dates? Looking forward to the end of this event? Let me know what you think down below in the comments and Happy Tapping!
3