We have less than 24hr until the Superheroes 2 event ends and we have some fun with speculating for the next big thing. With all events come items, prizes and craftables that, almost always, have a fun origin in The Simpsons.
In these posts we explore the fun features of items in the show. Today we roundup some leftover random items and explore their origins. We explore the origins of: Giant Snake in Tree, High Voltage Transformer, Burn's Summer Mansion, Attack Helicopter and the Kiosk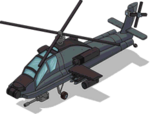 ---
The Giant Snake in the Tree, Kiosk and High Voltage Transformer both come from "Revenge is a Dish Best Served Three Times" (S18, Ep11) which is a three part episode with each episode with a  theme of revenge.
They crammed a lot of fun superhero items into the last segment parodying "Batman begins" where we find out the origin story of Bartman on his quest to stop The Serpent, played by Snake, after The Serpent killed his parents. After building some muscle with the help of grandpa we see the Kiosk with Apu working at it needing help after a criminal arrives:
On the way to help Bart stops a number of criminals, The Diddler and The Mole to name a few funny ones. He pushes a random criminal into the High Voltage Transformer and after knocking Poison Lenny out soon later he throws him onto the Transformer too. The place where the criminals are knocked out looks exactly like Orphan Alley so we have to assume that it is Orphan Alley due to the smoke and stricking resemblance!
Then at the museum party we see the Giant Snake in a tree with a camera pan of the party
Then with some hypnotic music, sending people into a dancing trance, The Serpent steals a diamond only to be stopped by Bartman!
---
The attack helicopter comes from
"Homer the Whopper"
a favourite episode of mine due to it's Superhero theme! I just wish that more items from the episode, eg Everyman skin for Homer, was added to the event but you never know … always room for Superheroes 3 – but that's for another post 😉
Comic Book Guy starts writing his own superhero character – Everyman – and comics and ends up self-publishing. A movie crew spot this phenomenon and want to make a movie adaptation. At auditions, Comic Book Guy Dee's the perfect Everyman in Homer so he goes through phases of trying to get fit, to then later become his loveable chubby self.
In one scene, of the movie adaptation, Everman's rival is a swarm of army attack helicopters that he defeats
---
Burn's Summer Mansion features in the episode
"Springfield Up"
, an episode that revolves around different characters and about how they grew up in Springfield.
When Decland Desmond arrives in Springfield to do a documentary named "Growing up Springfield" Homer and the family decide to sneak into Burn's Summer Mansion and hide Smithers tied up in the Cuckoo Clock to make them seem rich! They have a whale of the time using Mr Burn's resources, playing in the pool and sunbathing. Mr Burns storms in one day demanding an explanation and that is the last we hear of the Summer House.

---
So there you have it! The origin of some left out items. Remeber the event ends tomorrow early (7 GMT) so keep tapping tapping tapping to store up craftables, unlock prizes and finish the main questlines!
What did you think of the event? What were you favourite items? Did I miss any important items out of origin posts? Tell us what you think about the items reviewed above, and anything Tapped Out to be honest, below in the comments! Happy tapping all …
1