If you came here to listen to me sing this entire post from the title then get ready to be disappointed 😂
We are mid summer and last day of this Pride Day mini-event so that can only mean one thing … EA give us a two month break to let us enjoy our personal holidays? HAHAHAHAHA …
No. EA have definitely gotten into this routine of update after update and if I'm being honest … I like it. Just as long as they don't "run out of ideas" because they're going at an unsustainable rate. So with something lurking around the deep dark corners of the EA servers and from the clues that they've given, I'm getting very excited! 😊
Some enjoy some speculation and ideas of what's to come in the next Tapped Out update …
So in Tapped Out we get most of out clues from the takedown teasers that come with the end of each event, normally giving us questions that reflect on upcoming events, nearly all of the clues given get made into events but sometimes EAgive us red herrings so I compiled a list of all the clues from takedown updates, so far in 2017, and used a key to separate clues that could be for the upcoming event.
---
Key:
Red Text – clues I think are red herrings
Green Text – clues that were teasing events that have already been
Blue Text – the main clue for what I think is coming
---
An inaugural incident?  

A romp around the world?

A valentine visit from a gluttonous gal?

Maybe some military miseducation?

An invasion of bow wielding gnomes?

Military misfires?

A covert convention?

Or maybe a visit from a fake French fop?

A face-paint focused collegiate experience?

A temporal trip?

A quicky wedding?
A summer time sing-off?

A gathering of prideful pontificators?
---
But why do I think "A Summer time Sing-Off" is the clue to the next event?
Answer: Well … I predict that a major event is coming due to EA's preference of doing major events over the summer and also EA's following of a strict routine: Major Event – Mini Event – Repeat for 2017 (so far!) so if this "sing-off" is coming in the summer AND will be a major event then it must be the next thing coming. Unless EA do a mini-event before it. So … my predictions for what is coming …
A "sing-off " major event as the next thing – or …
A mini-event and THEN a "sing-off" event
The second idea might be the case with a Clown College Mini-event hitting before a big Summer Sing-Off, but I wanted this post to be about the "Singing" stuff so that's what I'm going to talk about now …
What could this "Sing-Off" include?
So much to include, so little time! First of all, let me start by saying … If we are getting some sort of Musical Showdown then I am SUPER EXCITED because I love all things musical and think The Simpsons have included SO many Musical Themed Episodes that I'm surprised EA have waited this long.
So … I think this "Sing-Off" event will involve something along the lines of "Springfield's Got Talent" where [enter name here] searches for talent among Springfield leading into an event where you can unlock a lot of musical themed characters along with musical buildings and decorations. We'll probably see some young talent (similar to the episode "Judge Me Tender").
Because what if the "Bow-Weilding Gnomes" clue was referencing children ("Gnomes" – they're small) that play instruments (Specifically string instruments because the carry a Bow) …
I've been very general with my content list so I do hear you screaming …
So I will …
---
My "Sing-Off" Wishlist
I've already mentioned "A Star is Torn" because it features quite a bit of content that I'm sure we will see in this event like Cameron, Clarrisa and The Music Shop that Homer writes the song in.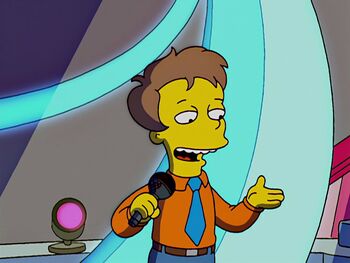 The episode "Judge Me Tender" also seems fit for the event and even though it's an overall mediocre (semi-forgettable) episode, It does seem to fit this "Sing-Off" event. In unpopular opinion, I would actually like to see Simon Cowell in the game – he's got huge potential for animated tasks and for being voiced – but I wouldn't mind seeing celebrity cameos from other American Idol judges and a Judge skin for Moe that could come with an outside Judging Panel with buzzers.
I also think it would be fun to maybe see the camp and some of it's members seen in "Elementary School Musical" to train the children of the town for the sing-off.
Now to some more "traditional" episodes …
I would love for the Be Sharps to re-assemble for a chance to win in this Summer contest so some separate Be Sharp costumes would be great.
And Leon K with an outside piano AND a moon-walking task is a MUST-HAVE if they are doing a music themed event – as long as complicated terms and conditions allow it.
Some characters and a wagon from the funny "Paint Your Wagon" part of the episode "All Singing, All Dancing" would be great to have …
There are also some items from "A Streetcar named Marge" like Llewelynn Sinclair and some skins for people like Marge and Ned which I would LOVE for the game – maybe with an outside stage that I feel like we may get with this event.
Alisson Taylor is also a must have …
And talking about jazz playing characters … How could we have a music event without? … Bleeding Gums Murphy. He won the Addicts Most Wanted Character in 2016 and is a character that has been requested SO many times so c'mon EA, just add him along with The Jazz Hole.
Wookie wrote a post about a Broadway event and a few of the items he mentioned could definitely be added. Plus the idea of Broadway leads really well into probably what could be the highlight of a "Sing-Off" event …
TROY McCLURE – Yes, I know that EA may have trouble with allowing Phil Hartman characters into the game (which is probably why we haven't seen his characters added in the game so far) but how could we have a "Sing-Off" event without a "Stop the Planet of the Apes, I want to get off" segment with breakdancing apes, DR ZAUIS and the main man himself, Troy McClure.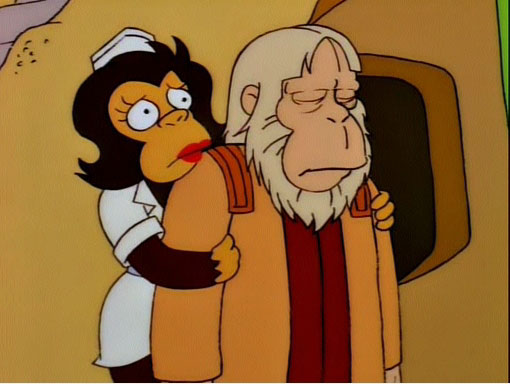 And to wrap this up I thought it would be great if we could get some kind of Jukebox decoration that plays a lot of classic Simpsons songs because they're amazing …
I could go on and on about my utter DESIRE for a music themed event but I decided to stop my rambles there – meaning I may have missed out some obvious choices – sorry!
---
So, final conclusion … a major event hitting tomorrow (Tuesday 18th)/Wednesday OR a mini-event hitting Wednesday and a major event hitting after that.
But whatever is coming …
Hope you enjoyed this ramble of a post and if you did then please leave a comment down below, enjoy your day and Happy Tapping!
4